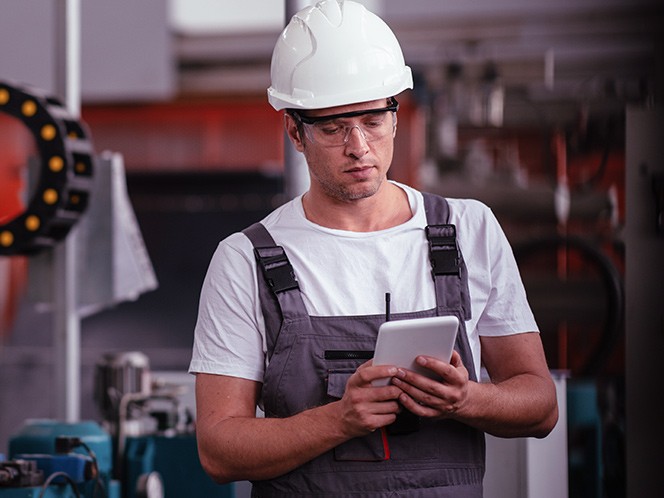 Digital Transformation of Standard Operating Procedures
AVEVA Work Tasks is advanced industrial workflow management software and connected worker solution for the digital transformation of work. Digitally model, execute, monitor and analyse work processes to achieve higher levels of work efficiency and productivity, and to reduce noncompliance risks and human error.
Eliminate the delays, errors and efforts related to manual data entry and capture all details and data of work tasks execution for compliance reporting and for the continuous improvement of work processes.
Achieve Process Excellence
Improve operational efficiency through enforcement of standard operational procedures (SOPs), and increase productivity through digital collaboration of functional teams and related systems. Eliminate paper documents with electronic forms, and use improved information views to mitigate risks associated with manual processes and capture the knowledge of an ageing workforce.
---
40%
Process Efficiency Improvement
50%
Increased Compliance to Mandates
How AVEVA Work Tasks Helps You
AVEVA Work Tasks offers a configurable and sustainable solution for the digital transformation of work processes and replacement of paperwork or manual procedures for data collection. It enables a higher level of work task automation and work process efficiency while enforcing  the compliant execution of standard operating procedures.
Digital Workflow Management
Digital Workflow management helps to automate operational processes and to proliferate best practices, eliminating paperwork and manual error-prone procedures to effectively accomplish simple or complex tasks.
It allows to digitalize EHS inspection, maintenance and operational procedures with easy-to-use data entry forms on work stations and mobile devices to speed up task responses, to ensure data integrity and procedure compliance, and to eliminate rekeying of data.
Configurable User Interface
The Work Tasks user interface is configured with an easy to use design tool for creating web form layouts using smart controls. Its design-friendly canvas helps configure and sustain custom forms to visualize and collect data. Automatic responsive layout adoption and form previews provide out-of-the-box support for desktop screens and multiple mobile devices such as tablets and phones.
---
Work Tasks on Mobile Devices
The Work Tasks pro app for iOS, Android and Windows is an easy-to-use mobile application which lets users perform their tasks on the move. The application downloads assigned work tasks on to the device to be viewed and executed on and offline in the event of loss of connectivity or unavailability of a network connection. 
Continuous Improvement
For at-a-glance process management AVEVA Work Tasks includes a dashboard, which highlights both workflow status and workflow instances. The integrated work tasks activity reporting and  monitoring tools allow you to conduct performance analysis, associate workflows with events, and receive proactive alerts on exceptions and KPIs. 
Discover the Latest News and Resources
Check out the latest news, blogs, events, webinars, and success stories.
Mar 16, 2021

The Case for and Against Legacy SCADA and HMI systems

Nov 04, 2019

5 Key Takeaways from Decades of Successful Asset Management

Jun 10, 2020

5 Signs It's Time to evaluate an Operations Management Platform

Jun 11, 2020

5 Signs It's Time to evaluate an Operations Management Platform

Sep 11, 2023

5 use cases for the emerging industrial metaverse

Aug 02, 2022

A bigger, better AVEVA System Platform