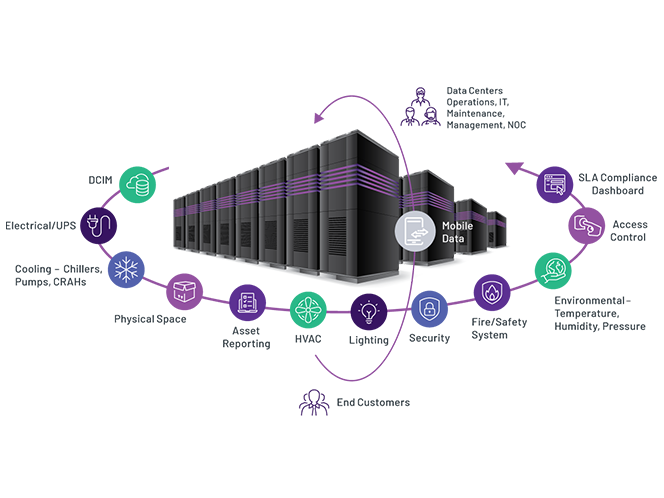 Converge and Contextualize Data Center Operations
Bring end-to-end operational visibility across data centers to maintain uptime, mitigate costs, and manage complexity with AVEVA Unified Operations Center for Data Centers (UOC).
Empower the whole team with a centralized view to help make informed decisions, fast. Unified Operations Center for Data Centers is based upon a system of systems approach that converges OT and IT technology into a single pane-of-glass solution.
This contextualizes actionable information, providing an overall perspective on data center health and the sub-systems that manage specific areas of data center functions such as DCIM, building management, mechanical, electrical and people.
Maintain Uptime, Increase Integration and Improve Efficiency
Digitally connect assets, operations, and people across data center facilities, converging IT and OT
Extend data gathering to all critical systems – electrical, mechanical, fire & safety, environmental, etc.
Broaden centralized operations visibility
Establish context and awareness between data center teams, and foster collaboration
Facilitates user experience with hierarchies of linked objectives, KPIs, targets, plans and alerts
Make faster, more informed decisions and speed crisis response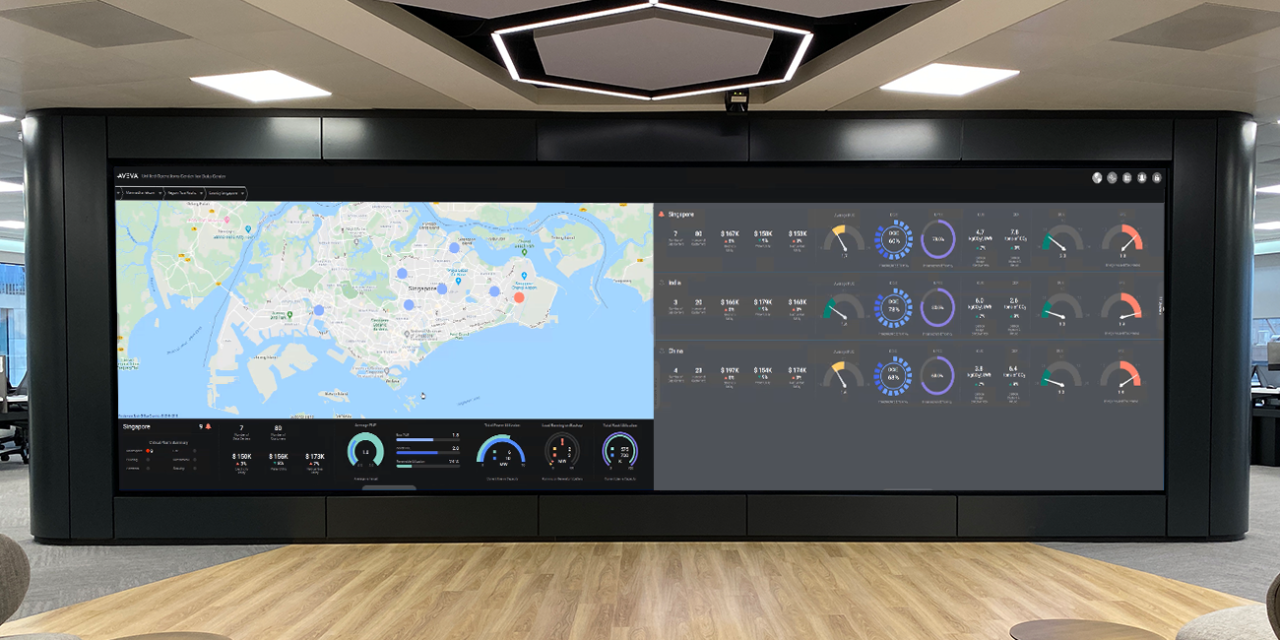 Map-based Navigation Model

Start with a global perspective on how regional operations are performing and drill down into a group/campus of data centers, before examining specific single site subsystem dynamics.
Converge and Contextualize IT/OT Data
Unified Operations Center for Data Centers normalizes operational views into how data centers are performing by aligning information from numerous disparate systems and data silos into a single pane context-aware control environment.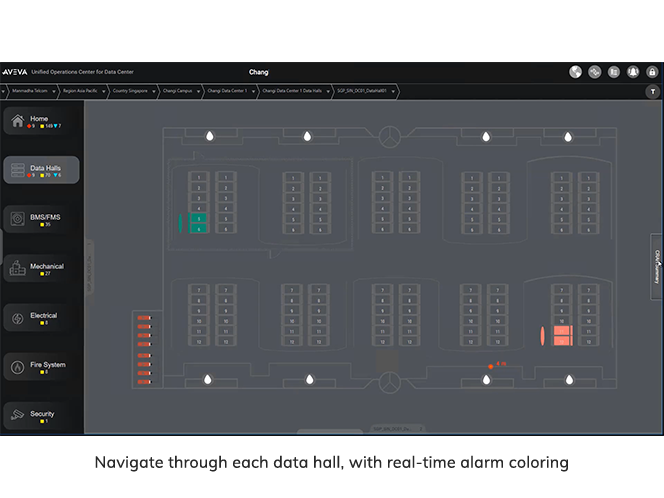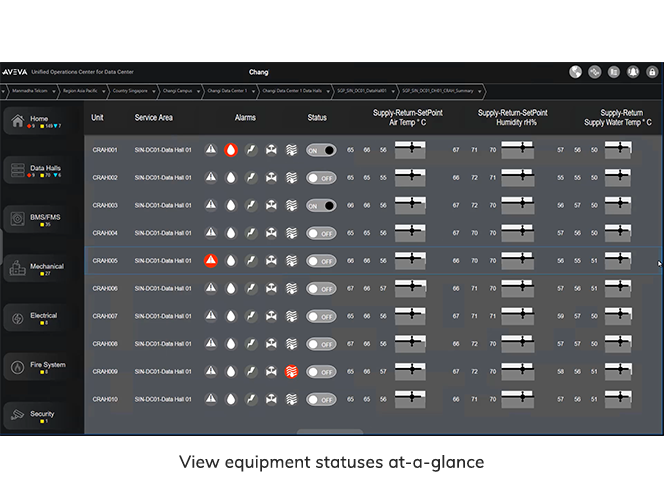 Minimize Risk to People, Assets, and Uptime
Improve decision-making by increasing situational awareness of asset operating conditions to move from reactive crisis mitigation to proactive risk management across data center operations. Supplement operator knowledge to extend the useful life of assets, ensure the safety of workers and meet SLA requirements.
Reduce Energy and Operational Costs
Benefit from AVEVA's expertise across Engineering, Operations and Performance to optimize energy consumption while reducing the overall costs of operations through workforce efficiency and greater visibility to key KPIs and operational conditions.
Establish a Single Version of the Truth
By empowering workers with actionable information through context-based integrated data visualization and analysis, AVEVA's Unified Operations Center for Data Centers maximizes the use of all available data in making informed decisions to improve process and asset performance in real-time. Utilize this single-pane solution for both monitoring and control.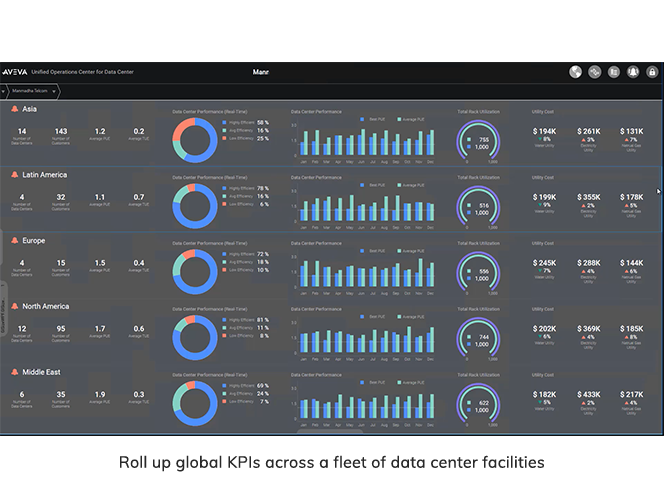 Out-of-the-Box Data Center Content
Jumpstart your UOC deployment with pre-built graphics, layouts, and connectors specific to the data center industry. Content can be further customized for company branding and unique system attributes to accommodate different operations environments.
Templated Design
AVEVA's software technology is focused on templated design techniques to improve the development experience. This reduces overall engineering effort and drives best-in-class total cost of ownership.
Maximum Value with AVEVA Unified Operations Center for Data Centers
The value of a unified system of systems approach focuses on optimization of operations and maintainability throughout the facility's life cycle with additional intangible benefits such as higher customer satisfaction and quicker ROI realization. AVEVA Unified Operations Center for Data Centers spans the white space and gray space offering integration at every layer of the organization revealing optimization and efficiency returns that would be difficult to achieve otherwise.
Discover Latest News and Resources
Check out the latest news, blogs, events, webinars, and success stories.
Jun 08, 2021

Empowering Industrial Troubleshooting

Sep 25, 2020

How unified are your data center operations?

Jun 24, 2020

Supporting the modern, agile data center

Jun 28, 2020

The Vital Role of the Data Center in a Disruptive Global Economy

The evolution of a digital twin: KBR develops a single, connected environment to help bp achieve its remote-operations vision