Key Features
SeQent's Alarm Notification Software provides vast capabilities, including centralized or remote management. This user-friendly software is infinitely scalable, highly customizable, and easy to install. Other features include:
Alarm acknowledgement, escalation schemes, and wildcard and specific alarm mapping
Import and export for easy mass configuration and reconfiguration of alarms
Real-time embedded alarm values
Messages can be sent to the same device from multiple applications
Industrial Alarm Notification Software Overview Video
This video will explore our Alarm Notification Software bundle that consists of two products that, together, provide end-users with an innovative and cost-effective plant floor communication solution. With competitive pricing and easy installation, our products will increase alarm response time and overall efficiency.
Connectivity and Interoperability
Our connectivity and interoperability enable informed decision making by dispatching automated text messages or voice enunciations to a wide range of communication devices in real-time.
InTouch
System Platform
OPC
ODBC
Device Connectivity & Notification Options
Device Options:
Analog / Digital Two-way Radios
Computers / Mobile Computers
PA Systems
Smartphones
Tablets
Pagers
Notification Options:
Text Message / SMS
Email
Text-to-Speech
Voice
Mass Configuration & Infinitely Scalable
Utilizing both the native wildcarding of alarms and import/export capabilities configuration of large complex environments requires minimal effort. Alarm Message, Terminate Message and Escalation Hierarchies are all templated. Re-use of previously created templates allows for alarm configuration in just a few clicks.
Specifications
Optimized Scenario
Increase productivity, quality, and the bottom line with our Alarm Notification & Visualization Software solutions that build a bridge between industrial automation systems and communication devices.

Languages
Multi-Lingual Character Support – our software supports the output of Unicode characters to both textual devices and visual displays
System Requirements
Windows Server
Windows Operating System
Windows Clients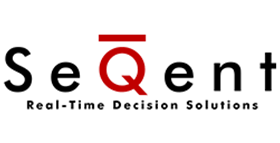 SeQent
SeQent is a leading industrial automation software provider and early pioneer in the Industrial Internet of Things (IIoT) with over twenty years of experience and thousands of installations worldwide. Our Alarm Notification Software, Andon-Visual Display Management, Industrial Automated Messaging, and Industrial Wi-Fi SMS Messaging solutions provide a bridge between industrial automation systems and communication devices.
Related Products
AVEVA InTouch HMI, formerly Wonderware
Formerly Known As InTouch HMI
InTouch is award-winning HMI visualization software that empowers you to achieve operational excellence. Used in more than one-third of the world's industrial facilities, in virtually every country and industry.
AVEVA System Platform, formerly Wonderware
Empowering you with a responsive control platform for supervisory control, HMI, MES, and IIoT.